I promised...and so here it is.
You will need to cut 3 flowers for each final flower you are going to make. The flowers I made were cut with the medium size flower from the Sizzix Tim Holtz grunge flower die cut.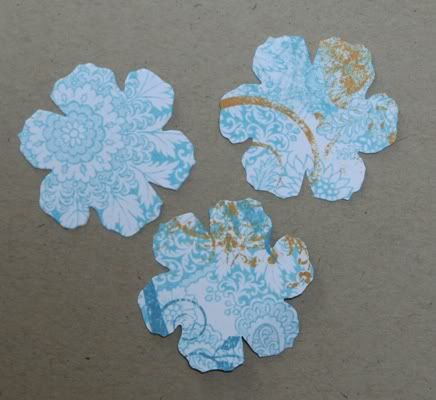 Next you will take 1 flower and cut in between two of the petals to the center of the flower.
You will take 1 flower and cut off 1 petal...taking the cuts to the center of the flower...KEEP BOTH PIECES!!
And take the last flower and cut off two petals together...taking the cuts to the center of the flower...KEEP BOTH PIECES!!
You will have pieces that look like this: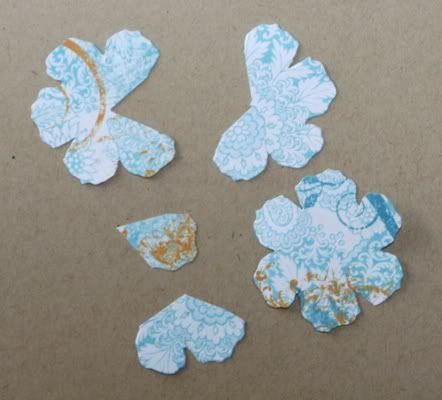 For the pieces that have 6, 5, and 4 petals...you will put glue on top of 1 of the petals next to the cut and then place the adjacent petal over the top of it...ending up with 5, 4, and 3 petal flowers like this:
For the single petal roll each sides into the center, and for the 2 petal flower, roll 1 petal together to the center and the other petal you will fold behind...like this: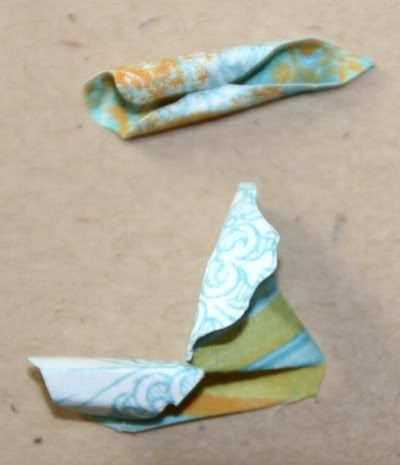 I sprayed my flowers with some glimmer mist from tattered angels to give them a little sparkle, but you can do without that.
Next curl the petals of the flowers down...I use the end of a small paint brush. And glue the double petal closed along the edge of the petal that is folded in.
If they are wet from the mist, they are a little easier to fold, but wait until they dry to continue.
Cut the center of all of the flowers except the biggest one...I show the center being cut from the 4 petal flower here:
Assemble the petals one on top of the other. You can cut as much of the bottom off as you want to get the desired effect. I cut a little at a time and put the piece in to check it. Then add a dab of glue and make it permanent.
Good luck making your flowers...if you have any questions, please ask. Thanks for stopping by!