I've decided to give the eight is enough challenge
from Ella Publishing Co
a go! Here are the 7 supplies I have picked out...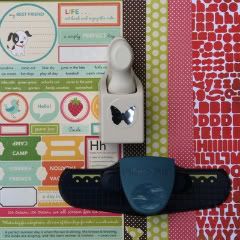 There are really only 7 products shown...I am saving 1 "wild card" supply to be picked at a later date!
My first LO was from the Sunday sketch challenge on the Studio Calico blog.
My additions were kraft cardstock, machine and hand stitching and a black journaling pen.
Thanks for stopping by!